Congratulations to the 2022 inaugural Colorado LGBTQ Chamber of Commerce: 40 under 40 Business Leaders!
Serial Entrepreneur, Film Producer, and Scrum Master
Graduated from the University of Missouri
Avid Traveler of 47 countries
Passionate Yogi and Soccer player
At 39, Amanda Reyes has been a trailblazer in both her career and in the community. She was recently named one of Denver Business Journal's 40 Under 40 and is proud to both represent the Latinx community as well as the LGBTQ+ here in the Denver community.
Career wise Amanda is a Senior Contracts Manager and former Contracting Officer with experience in both the Federal Government and Private Sector as the Chief of Base Support Contracting Officer at Buckley Air Force Base in Aurora, CO and now as a Senior Contracts Manager at Ball Aerospace. She has experience in construction, engineering, emergency management, research & development and now is excited to add aerospace to her gamut of contracting experience. Amanda has been honored with professional awards in her tenure such as the Air Force Association Colorado Chapter's Top 3 Contracting Officers as well as the Air Force 460th Contracting Squadron Supervisor of the Year and Air Force Installation Contracting Agency 772nd ESS Civilian of the Year. She has also been recognized for her Hurricane relief work during Hurricane Harvey among other large emergency events.
On the education front, Amanda is a proud graduate of New Mexico State University(NMSU) with two undergraduates in both Business and Communication Studies graduating with honors as well as an MBA from The University of the Incarnate Word. She is an alumnus of the Latino Leadership Institute out of Denver University and in the current cohort for the National Contract Management Association (NCMA) Contract Management Leadership Development Program.
On her off time, she is the current President of the NCMA Denver Chapter with a group of other dedicated board members raising the bar of education and connection among other contracts professional in the Denver Metro area. Amanda has also volunteered to spearhead the Greater Denver Area Sports Associations LGBQT+ Pickleball League called the Picksies. She has helped stand up the NMSU Rugby Alumni Association giving back to the rugby team that really made her feel safe to be out and proud as a lesbian. She is also involved in the Latin American Education Foundation as a Mentee and involved in the Hispanic/Latinx and Pride Network at Ball Aerospace. In the past she was also on the board of the Young Latino Philanthrope Group under the Latino Community Foundation of Colorado.
She shares connecting with people, connection, and community is her biggest drivers and that "… there's enough sun for everyone to shine. We all have different gifts and talents and all of that is what makes Denver an amazing place to be loud and proud.
Andy Schumacher
Little Shoe Studios
They/He/She
Andy's default emotion is joy. They love dogs, palm trees, hot springs, and being unapologetically themself. Their goal in life is to experience an extraordinary life and inspire others, particularly in the Queer community, to do the same.
Andy serves as the Executive Director of the Queer Business Alliance. QBA is a non-profit organization providing resources, education, and visibility for LGBTQ+ entrepreneurs and business owners. Andy wants to build an organization that provides a supportive community for folks to design their own careers. After starting a design agency at the age of 22, and owning the business for seven years, they recognize both the barriers and triumph that come with entrepreneurship. Andy describes themself as a visionary, stating, "One of my greatest strengths is having a vision and then the ambition to make it reality."
Anthony "T.J." Garcia
Colorado Funeral Homes
He/Him/His
Anthony "T.J." Garcia has been in the Funeral Service most of his life. He assists families during one of the roughest times in their lives. T.J. owns and operates 7 Funeral Homes, 1 Cemetery and 2 crematories.
Colorado-Grand Valley Funeral Homes with locations in Colorado Springs, Denver, Fort Collins, Grand Junction, Idaho Springs, Leadville, Montrose, Silverthorne. T.J. has also worked in the medical field as a Firefighter / Paramedic for Westminster Fire Department and San Juan County Fire Department, he was a Field Deputy Medical Investigator for the Office of Medical Investigators in New Mexico and was a Deputy Coroner in Montrose and Lake County. He finds helping others in need or someone who has had a loved one pass away a personal calling for him. According to T.J., the ability to provide a final act of service for someone's loved one is one of the most fulfilling things in his life. He is humbled and honored to be able to serve the families and people in need. T.J. has great knowledge, experience, and professionalism in the funeral industry, and he is able to share that with each family he services.
T.J. takes great pride in his work. He is following through with his family funeral home business which has been around for generations. He has also worked for Corporate Funeral Homes. While working for a corporate funeral home company T.J. quickly understood that the commission/bonus compensation of the corporate firms did not match his philosophy of supporting the bereaved. He had a goal of creating a funeral home where the primary goal is to serve the families of the deceased, with support and compassion at affordable prices with high care and dignity.
Since T.J. and took ownership of the family business his goal has been to provide high quality service, affordable burial and cremation options, and a personalized funeral service. Most of all they want to help and walk families through the process of a funeral arrangement according to each families individual custom traditions and/or beliefs.
T.J. is here to be a strong pillar in the community with high integrity, care and compassion. In T.J.'s spare time you'll find him spending time with family, friends and his dog Oakley. T.J. mostly enjoys what the Great State of Colorado has to offer.
Austin Montoya
The Colorado Health Foundation
He/Him/His
Advocacy runs in Austin's veins. It started in college, where he was the President of Students United for Reproductive Justice, a student leadership organization created by Planned Parenthood of the Rocky Mountains. Through that experience, Austin realized his passion for health equity, reproductive justice and LGBTQ rights. In the 10 years since, he's worked in communications and leadership roles at the Colorado Consumer Health Initiative and One Colorado.
Austin joined The Colorado Health Foundation in September 2017. As Communications Officer, he is responsible for implementing strategic communications to advance the health of all Coloradans and spearheading its public perception work and policy presence. His commitment to health equity work is personal. Growing up, he didn't have many opportunities to live a healthy life. Austin's Colorado roots run deep. He grew up near the Eastern Plains and has lived in The Centennial State for nearly his entire life. His favorite place in the state is Ouray, a tiny, friendly town in the San Juans with waterfalls and hot springs – Ouray is also his middle name.
For Austin, life is the best when you have the people you love around you. He also loves the changes that come with fall – you'll find him exploring the Maroon Bells and enjoying the aspens before it gets too cold. He lives with his partner, Topher, and their cat, Lucy Lou in Lakewood, Colorado.
Ben Shellhorn is a corporate transactional attorney at Hogan Lovells US LLP, an international law firm, where he represents companies, financial sponsors and strategic buyers at all stages—from entry to exit. In service to the LGBTQ+ community, Ben has donated nearly 1000 hours of pro bono service representation over the past several years (in particular, advising transgender clients in changing their identity documents and asylum matters). Ben currently serves on his firm's national Pride+ steering committee and is the co-chair of the Colorado Pride+ group. He is also the vice chair of the Duke LGBTQ+ Network. Prior to moving to Colorado, Ben volunteered with New York City pride for 7 years, managing all of the march volunteers. Ben lives in LoHi with husband, Matt, and their cat, Cheeto, and dog, Frances.
Born in Wisconsin in a restaurant family. Moved to New York City in 1999. Continued my industry career while also working in Theatre and Television. Moved to Denver in 2010 again focusing on my restaurant/ Bar career. Working in various places of every aspect. All Different walks. Met my Husband and got married in 2017. Just celebrated our 5-year wedding anniversary. Finally grew to the point where I was ready to start my own personal venture. With the help of Kevin and Wayne we were able to open 3 Kilts Tavern. A gay and veteran owned neighborhood restaurant/Bar. All-inclusive atmosphere. Opening during covid was difficult but we made it, and can't wait to see where we go from here!
Brent Otsuka
Fentress Architects
He/Him/His
Brent Otsuka is a visionary interior designer with a strong sense of innovative concepts for interior spaces. Brent has the natural ability to create dynamic interiors that complement and enhance their environment. His design approach coalesces color, form, texture, and patterns to create harmony among all materials to reinforce the place's story from the outside in. The result is a memorable user experience that is unique to the project's client, community, and context.
Brent brings nearly a decade of experience practicing interior design. As Senior Associate and Manager of the Interior Design Department at Fentress Architects, Brent has played an integral role on the design team for numerous award-winning projects, including the Miami Beach Convention Center, The Expo at the World Market Center, and Concourse D at Nashville International Airport.
Born and raised in Denver, Colorado, Brent has never been reluctant to be himself. He is a foodie and has a passion for art, design, music, and fashion. As early as 11 years old he has always wanted to help others and became a peer counselor in elementary school. In high school, he continued his passion to help others by being a mentor to children with developmental disabilities and joined AmeriCorps.
While in college he discovered social justice activism from his former partner. He learned he can do more by being an advocate and role model to others. He volunteered at Rainbow Alley as an adult volunteer and sat on the board for the Colorado Anti-Violence Program and Branching Seedz of Resistance.
Now he is assisting in establishing the firm's Diversity, Equity, Accessibility, and Inclusivity (DEAI) initiatives. He also loves mentoring the new interns at Fentress. Through the Cleworth Architectural Legacy Project, Brent and fellow co-workers teach design to high school students and elementary students.
Brent has recently become the VP of premier events for the International Interior Design Association – The Rocky Mountain Chapter (IIDA RMC – a non-profit organization). One of the IIDA RMC's signature events is Prêt-À-Porter. This is a fashion show for architects, interior designers, industry members, and students in the design industry. Design teams are paired with a manufacturer, such as tile or carpet, to create a garment inspired by the theme of the show. Part of the proceeds will go to a local charity here in Colorado. Brent and his Co-Chair for this event created this year's theme to have teams draw inspiration from the LGBTQAI+ BIPOC and BIPOC community of Artists, Musicians, and Culinary Artists whose voices may not be heard. Similarly, he is also on the program committee for Equity in the Built- Environment: A Colorado Coalition (EBECC). EBECC is a grassroots coalition formed by individuals and supportive organizations who believe in the importance of inclusivity within the Built Environment industry.
Chris Callanan works at the City and County of Denver in the Department of Transportation and Infrastructure, Office of Community & Business Engagement. He is passionate about addressing barriers to social, environmental, economic, and political justice for our communities' most marginalized groups.
In 2016, Chris relocated to Kampala Uganda to start his career as the East Africa Programming Coordinator at the Global Livingston Institute. In this role, he convened global leaders in Uganda and Rwanda to learn about, and advance, best practices in community development that create equitable, sustainable, and culturally responsive solutions to our greatest social, economic, and environmental challenges.
Chris moved back to Colorado– where he was born and raised– in 2018 and joined Urban Peak as Executive Assistant to the CEO. He served as first point-of contact to the CEO and his responsibilities included Board management and advancing strategic priorities (i.e., administrative stabilization, strategic positioning) and projects (i.e. DEI initiatives, strategic planning, and capital campaign activities). At the onset of the COVID-19 pandemic, Chris' work shifted to support COVID-19 response for Denver's Shelter System by managing logistics and public partnerships for the Homeless Leadership Council.
As his responsibilities grew, Chris was promoted to manage Urban Peak's government and public affairs. He successfully lobbied Senator Hickenlooper and Representative DeGette in the FY22 Congressionally Directed Spending cycle, securing a three-million-dollar federal grant for the agency. The catalytic investment is being leveraged to generate additional funding to support the agencies' innovative capital campaign which aims transform the existing shelter into a campus where youth experiencing homelessness will have the ability to access wraparound support services, shelter, and housing at a single location.
Chris studied Political Science at Colorado State University as a first-generation student and Daniels Fund Scholar. His academics focused on interdisciplinary studies in Environmental Affairs and Diversity in Law. As a college student, he traveled abroad to study International Law in The Hague and Intercultural Leadership in East Africa. Chris is passionate about social, political, and environmental justice. In his free time, he loves camping, dancing, park days, and rock climbing.
A Colorado native, Dusty (he/him/his) loves all things Colorado: being a type A personality, finding the best green chili, and telling people he's a Colorado native. When he's not mixing cocktails or playing with his wild corgis, you can find him on the dodgeball court.
"The "covid-era" was definitely a new adventure for me. As a small local business owner with my partner, Sean Maas, Wild Corgi Pub wanted to be sure we remained a community anchor by still providing a service while keeping our community safe. We doubled down on our online offerings and moved our hours later because, frankly, everyone's sleep schedule was on its head. That really helped us shine in a year where it felt like the sidewalks rolled up at 8pm. We realized the corgi family was critical and retained everyone through this unprecedented event, which I'm very proud of."
Now that restrictions have relaxed and the Corgi is continuing to grow in the right direction, Dusty is pursuing his next new adventure, commissioning a non-profit recreational sports league with a several other engaged community members.
"There are so many good people who's lives could be enriched by having a strong community that reinvests in itself right now. That's why Summit Sports' mission statement is about creating a welcoming and socially rewarding atmosphere, inclusive of orientation, gender identity, athleticism and creed through recreational sports."
Eric Mindykowski
The MMS Companies
He/Him/His
Eric Mindykowski is the Owner and VP of Operations for The MMS Companies. MMS provides Document Management Solutions throughout the state of Colorado to help organizations make the move to digital documentation and manage large amounts of information. MMS is family owned and operated over the past 34 years and works with multiple industries including Engineering and Construction, Medical, Education, and Government. In the past Eric has worked with organization such as Regional Transportation District, Leidos ASC, and Newmont Mining/Gold Corp.
In his free time Eric enjoys the outdoors and off roading. His slightly modified jeep takes him all over the place for day excursions or camping adventures. He is also an avid lover of the theatre. He has worked on many stages throughout Colorado as both an actor and director. He has worked with The Colorado Theatre Guild as a Henry Judge and for 20 years he has been involved with the Colorado Renaissance Festival playing multiple characters over the years as well as being the Cast Director there for the past 5 years.
Eric joined the Board of Directors at the Colorado LGBTQ Chamber of Commerce in early 2021 and is thrilled to be the Membership Chair getting to work closely with all the chamber members. Having the chance to work within his community and help other LGTBQ+ business has been a dream!
Gisele Assink
Comcast Cable
She/Her/Hers
Gisele Assink is a Senior Analyst of Supplier Diversity at Comcast Cable, West Division.
She and her Comcast teammates are dedicated to ensuring that diverse suppliers have a seat at the table and a voice to participate in opportunities.
She is part of the NGLCC and the Disability:IN Certification Committees. She is also a second-year mentor for the WBEC National Black Business Pitch Competition.
Her work with the Colorado LGBTQ Chamber of Commerce started with participation in Business After Hours, which led to a Comcast West Division and Colorado LGBTQ Chamber of Commerce event to help interested businesses with their written capabilities, elevator pitches and more.
Prior to the COVID pandemic, she was a steadfast volunteer for the Mountain Plains Minority Supplier Development Council and the WBEC-West events.
Originally from Brazil Gisele came to Colorado in 2008 as an exchange student. After two years in the U.S., she moved back to Brazil to finish her Bachelor's degree in Business Administration with an emphasis in International Business. She currently lives in Denver with her husband and their four pets. She loves travel, photography, and the outdoors.
Haley Shelley
SheLettering
She/Her/Hers
Haley Shelley is the owner and creator of SheLettering; a custom calligraphy and day-of wedding signage company based in Colorado. SheLettering began as a way for Haley to manage mental health and remains at the heart of each piece she creates. Since 2018, Haley has been perfecting her craft and building long lasting relationships within the Colorado wedding industry. Haley celebrates love through creativity and strives to bring beauty that ties a ribbon around every event she touches. As a way to show gratitude, proceeds from every creation are donated to LGBTQ organizations that have a specific focus on mental health.
Jonathan Benefield
Midtown Dental
He/Him/His
Dr. Jonathan Benefield is a general dentist and the owner of Midtown Dental LLC. He is a Colorado native born in Grand Junction. He received his dental training in San Francisco, California, and completed his Doctorate of Dental Surgery at the University of the Pacific in 2013. While there he especially enjoyed connecting with the LGBTQ+ community by receiving extra training to provide much needed dental services through the Ryan White program, and also volunteering as a dental provider for Project Homeless Connect.
Dr. Benefield loves having fun and spending time with his wonderful partner David. He has also played the piano since he was 9 years old and is fond of both Classical and New Age composers. He is interested in fitness, he enjoys cooking (and eating!), card and board games, reading, and traveling.
Josh began working for Verizon in March 2020 working as the company's first Colorado Manager of Community Engagement. Josh's first day of work was the first day of Colorado's COVID-19 "stay at home" order. He was immediately faced with the tough question of how to establish and grow a new community engagement department for Verizon in Colorado during a global pandemic. Josh was up for the task. He had 10 years of direct work in the Colorado political community prior. Needless to say he was well equipped to guide this corporation through community affairs during a pandemic.
His work to date has included expanding Verizon's outreach into the Colorado community and enhancing its presence in the social/racial justice, LGBTQ, STEM Education and digital inclusion communities. Even in the virtual world, Josh has excelled in this role. He has set up monthly forums for social justice, LGBTQ and STEM leaders to identify the needs of the community and how Verizon can assist them. He quickly acted and he and his team were able to have Verizon contribute to Governor Polis's COVID-19 relief fund and the Food Bank of the Rockies. He is one of the stewards of the Verizon Foundation and recruited his co-workers to engage in volunteer activities to help improve the communities that Verizon operates in.
Josh has been deeply invested in the Colorado political scene. He successfully ran two winning campaigns for Congresswoman DeGette in addition to working for Mayor Hancock on his 1st and 3rd winning campaigns. Not only has Josh assisted candidates, he was instrumental in passing the Stock Show initiative and the 2017 Denver General Bond campaign. He most recently was the Deputy State Director for Mayor Bloomberg's presidential campaign.
Josh is also an integral part of the Denver philanthropic community. He has served as an at-large member of the Jewish Community Relations Council (JCRC), and has served the local Democratic party in various positions over the last 10 years. Josh is also very involved in the Colorado LGBTQ community and is a drag queen performer by the name of Laura Menorah and is one of the most well-known of the Drag Queens in Denver. In this role, he has raised over 35K for charitable organizations and causes over the last 3 years. Mayor Hancock once declared one of his shows a city holiday. This summer, Josh became the first Drag Queen in Colorado history to host a major GOTV drag event for a presidential candidate (for President-Elect Joe Biden).
Originally from Bogota, Colombia, Juan Moreno (he/him) is a long-time Boulder County resident and Fairview High School graduate.
For the past 6 years he has worked hand in hand with Executive Director Mardi Moore at Out Boulder County to serve the local LGBTQ+ community and beyond.
In that time, he has been involved with various aspects of the organization such as the youth program, volunteer program, the inception of their QTPOC (queer and trans people of color) program, major fundraisers, and much more.
Through all of this hard work, he and Out Boulder County's team are glad to say that they have grown from a staff of 3 to 16 in these past few years alone. The organization has also recently moved into a new community center (The Equality Center of the Rocky Mountains) where Juan and the rest of OBC's amazing team can continue to meet the rising needs of our community.
Khanh Pham
RP Financial Services
He/Him/His
My name is Khanh Pham and I am the Co-CEO of RP Financial Services. I have a degree in Environmental Studies and Business from the University of Colorado, Boulder. I am currently pursuing my Masters in Business Administration from the Leeds School of Business. Born and raised in Hanoi, Vietnam, I came to Colorado for school in 2013 and I absolutely fell in love with the place from the moment I set foot in the Rocky Mountains. Roger and I started RP Financial Services in 2020, in the midst of the pandemic. Our goal is to create a company that serves businesses and individuals, and especially the underrepresented communities, while providing professional services with pride and integrity at an affordable price. In my free time, I enjoy working out, hiking, biking, and checking out local breweries. I love animals and am a huge Jurassic Park fan! I have two beautiful dogs: Nick, a red husky and Leia, a black pitbull, that my husband and I often go on adventures with. I am also a huge foodie and always love a food tour where I check out new restaurants and new food with friends and family.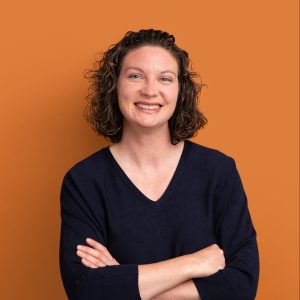 Leah Queen
Stevenson Therapy
She/Her/Hers
Leah Queen is a licensed marriage and family therapist and licensed addiction counselor with over 15 years of experience! She has additional training in EMDR therapy for individuals struggling with unresolved traumatic experiences. She has worked with individuals across the lifespan starting at adolescence and into older adulthood! She has also worked in a variety of mental health treatment settings that include detox, an acute treatment unit, residential treatment, intensive outpatient treatment, school-based, and outpatient treatment!
In addition to her clinical work with providing psychotherapy services, she has been a trainer of youth mental health first aid, been a guest presenter at the Colorado Behavioral Health & Wellness Summit, been a guest presenter on trauma-informed care for large organizations for staff at WellPower Denver, and provided clinical supervision for individuals who are pursuing their licensure as a marriage and family therapist and addiction counselor!
When she isn't involved in clinical work, she enjoys riding her bike on a sunny Colorado day, warm conversations with friends, volunteering for local events in Denver, and enjoying a local Colorado craft beer!
Lee Bailey
Speaklife Cuisine
He/Him/His
Lee Bailey is a young Black Queer Jamaican entrepreneur, chef, visionary and master of resilience. As a chef Lee specializes in the recipes he grew up with like oxtail, curry goat, stew peas, punkis rice, sorrel and a wide range of traditional Jamaican cuisine. Lee began learning to cook these wholesome, nourishing, rich in spirit foods from his grandmother when he was barely old enough to hold a stirring spoon. He cooked for all; family, community, cousins, pets, and strangers yet to become friends. Lee embodies this same generosity and commitment to caring for others as a chef.
Lindsey Spraker
Lifelong Inc
She/Her/Hers
Lindsey Spraker is a Licensed Clinical Social Worker, Certified Therapeutic Recreation Specialist, and Approved DVOMB Treatment Provider. She is the Executive Director and Owner of Lifelong, Inc., an agency dedicated to providing mental health, behavioral, domestic violence, substance treatment, and evaluation and assessment services to children, youth, adults, and families with intellectual, developmental or mental health disabilities, traumatic or acquired brain injuries, autism spectrum disorders, hidden disabilities, or those who have not had success with previous providers.
Lifelong, Inc. has recently partnered with Denver Housing Authority to provide free and low cost services to the DHA residents with accessible office locations directly in two of the townhome communities. Lindsey also is an Adjunct Faculty member at the University of Denver in the Graduate School of Social Work and is co-owner of Training Collaborative, an agency dedicated to bringing cross training to the forefront of system collaboration. In addition, Lindsey is also co-owner of Professional Collaborative, an agency committed to cultivating and distributing equitable scholarship and grant funding to professionals seeking training opportunities and access to ongoing learning and development.
Maddy Fauth
Great Guys Heating Cooling and Electrical
She/Her/Hers
Maddy Fauth co-founded Great Guys Heating Cooling and Electrical in 2018. She serves as the Chief Operations Officer of the family owned and operated business based out of Littleton. She grew up in Colorado and graduated from Grandview high school in 2010. Maddy has previously held operations related positions in hospitality and cannabis. These positions have created the foundation of success for her in a male dominated industry. Maddy has developed a strong sense of devotion to supporting her community through volunteering and supporting fellow members of the LGBTQIA+ community. This experience has given her a deep devotion for how nonprofits seek to improve lives for everyone in Colorado. She prides herself and Great Guys on building long lasting relationships with clients to address their property needs. With a focus on consumer education, service integrity, fair pricing, employee satisfaction and customer retention Great Guys has now become one of the fastest growing companies in the industry.
Matt Wagner
Hamburger Mary's Denver
He/Him/His
Matt Wagner is the General Manager of Hamburger Mary's in Denver. Matt is a long-time hospitality professional and over the course of his career has moved from entry level positions to managing some of the better-known night spots and clubs in the city.
Most recently Matt and his team navigated Hamburger Mary's Denver through the challenges of the COVID-19 pandemic. Beyond managing the venue, he expanded his skills for writing grants, and developed collaborative working relationships with the CDPHE and others earning a five star safety certification for the business. Dedicated to supporting the thriving and diverse Denver community, Matt's positive energy and commitment to others' success has provided his peers' new skills and opportunity for advancement in the company.
Though Matt is a Nebraska native, his roots in Denver are deep and he is proud to have a very close and supportive family, including his husband Jiovani.
Mohammad Dalabih
National Jewish Health
He/Him/His
Dr. Mohammad Dalabih is an Assistant Professor of Medicine at National Jewish Health. He was born in Amman, Jordan and moved to the US at the age of 23 to pursue residency and fellowship training. He completed his post-graduate medical training at the University of Arizona and moved to Denver in 2019 after accepting a position at National Jewish Health, a respiratory hospital that is consistently ranked in the first or second spot in the US for respiratory medicine for the last 15 years. He specializes in a rare lung disease, pulmonary hypertension, and in exercise-related respiratory issues in athletes. Mohammad enjoys spending his free time cooking, riding his bike, doing yoga and playing with his dog.
Natalee Bingham
Back to Skye High Credit LLC
She/Her/Hers
I like to think of myself as the quintessential millennial entrepreneur – building two businesses, buying property in my 20s, and launching a credit restoration startup from home into a multi figure income within two years of business.
Nick Martinez
Doorbell Coffee Company
He/Him/His
Nicholas (Nick) Martinez, is the Founder and President of Doorbell Coffee Company, LLC. A born and raised Coloradan, Nick received a Bachelors of English from the University of Northern Colorado and a Masters of Business Administration from Colorado State University. Nick has over a decade of experience in several facets of the legal industry, most recently as the Attorney Recruiting Coordinator at a nationally ranked law firm. Using his expertise in navigating the legal sphere, Nick launched Doorbell Coffee Company in December 2021 to bring fresh and bold flavors right to the front doors of his customers. Doorbell Coffee was created with the idea that by creating meaningful memories over a cup of coffee, we can foster a stronger community to change the world.
In addition to building Doorbell, Nick has been an active member of the Denver Gay Men's Chorus since 2015. Since joining, Nick was elected and served on the Chorus Council, appointed Membership Chair, and performed in numerous outreach performances including a sold out Prince Tribute Concert at Red Rocks in 2016, and the Inauguration of Colorado's current Governor, Jared Polis, in 2019. In his spare time, Nick enjoys finding a new hike to explore in the Colorado Rockies, testing out his crafting skills on his new Cricut Maker 3, and spending important Guncle time with his 4 (and counting) nieces and nephews.
Ohm Chotinun
Mile High Thai & Rocky Teriyaki
He/Him/His
I moved to Wichita, KS at the age of 5. My parents were limited English speakers and had little knowledge of business operations in the United States. Through hard work, dedication and grit, however; they managed to open up their own restaurant! That first restaurant was not successful. but with every failure comes a lesson learned and another step towards success. My parents then accepted jobs at a Thai restaurant in Vail, CO. While there, they met a Colorado native that loved Thai cooking; and the three of them teamed up to open their own restaurant. THAT business venture was a major success. After several years in operation, some failed business decisions prompted my parents to open yet another restaurant on their own. Although my parents divorced and my father moved back to Thailand (where he currently resides), my mother continues to manage her own very successful restaurant in Lakewood, CO.
Due to a lifelong passion for drawing and art, I earned a degree in graphic design. After graduating it became apparent that jobs in my profession were difficult to find, so I worked at my mom's restaurant to earn a steady income. (Little did I know that my knowledge and familiarity with a Thai kitchen would be of such great value later in life!) Around this time, after years of struggling with my sexuality, I chose to come out. I was confused, lost in life, and uncomfortable in my own skin. I had no idea where to meet other gay people, but was eager to begin my life as I envisioned. I met my partner, Tate, and we hit it off immediately. After several years together we were happy with our personal lives, but realized we wanted more out of the professional portion. I was working in marketing and design, but yearned to be my own boss.
Then the Covid pandemic hit, destroying lives literally and financially. Restaurants were forced to undergo major changes in their operating structure. Those that weren't able to flex went out of business, leaving limited food choices. Tate and I worked vastly different hours making meals at home together impossible. As we turned to take-out options we found affordable restaurants either out of delivery range or closed before our break times. After pandemic restrictions began lifting and restaurants offered dine-in once again, finding a spot remained difficult. We had to drive to Alameda and Federal for good Asian food, which prompted us to begin talking about the need for quality, affordable food in the downtown Denver area. We wondered if my Thai cooking experience could be put to use in OUR own restaurant? Thus…the idea for Mile High Thai was born.
Paige Wiese
Tree Ring Digital
She/Her/Hers
Paige Wiese is the founder and CEO of Tree Ring Digital, one of Denver's top-ranked marketing agencies. Paige leads a team of nearly a dozen specialized marketing professionals who collaborate to create successful campaigns customized to each client's unique needs. Since 2010, Tree Ring Digital has offered a complete panoply of digital marketing solutions focused on increasing revenue and brand awareness, including website design and development, search engine optimization (SEO), paid ads, social media, reputation marketing, and more.
Rhae is a Mental Health Professional and Social Justice Advocate. She earned her Master's degree in Marriage and Family Therapy from Argosy University, Honolulu. She is a Licensed Professional Counselor and a Licensed Addiction Counselor in Colorado, Certified Substance Abuse Counselor in the State of Hawaii and an International Certified Alcohol and Drug Counselor. Rhae has over 14 years of experience specializing in the complex dynamics of relationships, attachment, and addiction; navigating conflicts with a focus on racial identity development, culturally mixed couples, multi-racial families, and queer people of color.
Rhae has worked with a variety of settings across the country; integrating culture, belief exploration, and religious framework with psychotherapy. She believes in developing and fostering the sacred space between individuals provides freedom to explore one's inner-world and opportunity to heal and create choices in their lives. Rhae helps people explore and identify the barriers that have become obstacles to motivation and thriving in all areas of their lives.
Rhae is active in pursuing continuing education related to therapy, diversity, and inclusion as well as facilitating art and social groups for the BIPOC community. She continues to serve in Boulder county and offers affordable services to the BIPOC community. She will soon release online courses to expand access and support to other communities outside of Colorado
Rick Mireles
Denver Center for the Performing Arts
He/Him/His
Rick Mireles- is a theatre-maker, producer, and professional stage manager based in Denver, Colorado. He is originally from south Texas where he earned his BA and MA in theatre from the University of Texas Pan-American. He then earned his MFA in stage management from the University of Illinois Urbana-Champaign. His career in theatre began as a hobby/extracurricular activity in high school and he is happy to say he has been working professionally for 10 years. Rick primarily works as a resident stage manager for the Denver Center for the Performing Arts where has served as an assistant stage manager or stage manager for 6 years on numerous productions some include: Quixote Nuevo; In the Upper Room; Theatre of the Mind (in production); Goodnight Moon the Musical; Remote Denver; DragON; Wild Party. Rick has also worked regionally with other theatre companies such as: Butterfly Effect Theatre Company (formally Boulder Ensemble Theatre Company in Boulder, CO), The Catamounts (Boulder, CO), Creede Repertory Theatre (Creede, CO), The Colorado New Play Festival (The Public in Steamboat Springs, CO), Montana Shakespeare in the Parks & Schools (Bozeman MT), and Eugene O'Neill Theatre Center (Waterford, CT). Rick has also worked with Meow Wolf Inc. with events for their newly constructed Denver location, Convergence Station. He is also a producer with Black Ink Presents out of Los Angeles, California where he produces events around the US and Colorado and will also sub in as stage manager for their tour of Deal or No Deal Live. He is the proud son of immigrants, migrant workers, and is a first generation college graduate who strives for equality in spaces he is able to lead as a collaborator. He is also a dog dad of three: Horace, Bently, and Maddy with his partner Jared.
Roger Reed
RP Financial Services
He/Him/His
At RP Financial Services: Roger handles the management of business.
Industry Experience: Since 2016.
Education: Bachelor of Business Administration from the University of Mississippi (2012) and Enrolled Agent (EA) (2018).
Before RP Financial Services: Roger worked for a large tax corporation as a regional manager where he managed teams of 30-40 tax professionals in 5 offices spread across Denver. Prior, Roger worked as a manager in retail, landscape, and building maintenance before starting his career in the tax industry.
Little-known Fact(s): Roger was an assistant recreation manager at the State Veterans home in Oxford, MS – this is where he realized his passion for helping others and managing activities. Roger has also been a Brazilian Jujitsu Practioner since 2008 and helps teach students in Broomfield, CO how to protect themselves.
Piece of Advice: When you can't beat them, arrange to have them beaten.
As Executive Vice President of Programs & External Affairs at the National LGBT Chamber of Commerce (NGLCC), Sabrina Kent (she/her) serves as a member of NGLCC's Executive Leadership and supports the efforts of its Board of Directors in advocating for the economic empowerment of LGBT-owned businesses both within the U.S. and globally. Sabrina's work focuses on oversight of the NGLCC Supplier Diversity Initiative and New York operations, management of corporate partnerships, strategic programs, and priorities across the organization, as well as development of the NGLCC Team. She is also a member of the NGLCC Global Team with a particular focus on the division's ongoing work in India.
In January 2019, Sabrina was recognized by Business Equality Magazine as a Top 40 LGBT Leader Under 40 and was elected to the Board of Directors of Q Street, an association focused on supporting LGBT advocates and lobbyists in Washington, DC. In June 2020, Sabrina was named to the inaugural Crain's New York Business list of Notable LGBTQ Leaders & Executives, and in September 2021, she was recognized by Professional Women's Magazine as a Wonder Woman in Business.
Sabrina holds a BA in Philosophy and Sexuality, Women's & Gender Studies from Rollins College in Winter Park, Florida. She was named the 2014 Sojourner Truth Awardee for Combined Academic and Activist work by the Rollins College Sexuality, Women's & Gender Studies Executive Committee and served as Editor-in-Chief of The Independent magazine, a 2015 Columbia Press Association Gold Crown Award recipient. She held the role of NGLCC Meetings & Education Intern during the Summer of 2014 and was welcomed back to the NGLCC Team full-time in May 2015.
Sara Elizabeth Grossman is a writer, advocate, and communications specialist living in Denver, CO. She runs CODE-mktg, a LGBTQ+ focused digital marketing firm, sits on the board of The Dru Project, and is a fellow with Everytown for Gun Safety. When she isn't advocating against gun violence or in favor of LGBTQ+ youth, she enjoys music and drag entertainment. Sara lives with her girlfriend Emma and their dogs Baxter and Finley in Denver.
Sarah E. Brown is a B2B tech marketing leader, author, startup mentor, and ecosystem builder. She is the Founder of Flatirons LGBTQ Tech, a diversity- and inclusion-focused tech meetup based in Boulder, CO, and mentor for early-stage startups at Techstars accelerator. She recently released her second book, Lead Upwards: How Startup Joiners Can Impact New Ventures, Build Amazing Careers, and Inspire Great Teams. She blogs at https://sarahbrownmarketing.com and you can find her on Twitter @SEBMarketing
Sean grew up in Wyoming where he fell in love with the art if cooking and music. This led him to Colorado where he attended culinary school. His love of cooking came from his family who has owned many bars over the years.
His love of music then came 12 years ago when he was mentored by Nina Flowers and DJ Markie at Tracks where he quickly became popular and traveled the world sharing his love of Music.
Throughout his years working in nightclubs he had a vision to bring a fun LGBTQ Bar to life that would add to Denver's Nightlife. The Traingle is entering it's 5th Anniversary and has been named best cocktails in Denver and Best Drag Brunch from Westword and #8 as top gay bar in the United States.
As a business owner in the LGBTQ community it was important to give back to local non-profits and support causes the LGBTQ community face. One annual give that is near and dear to Sean's life is being the only LGBTQ Bar in Denver that is able to present a $10,000 check to The Center on Colfax.
Talaya Banks is a Black Queer Artist, Imagineer, Anthropologist, Play Enthusiast and Tea Intuitive. Born and raised in Denver, Colorado Talaya appreciates soaking up the sun and communing with the trees. A Black Femme researcher and organizer, Talaya's passions lie in creating representation for Black women to experience joy, leisure, and safety. She explores play as a tool of disruption to colonialism and self perfection to access emotions in the body. Sunlight Sips was created in 2020, to guide individual and collective healing through intuitive blends. Talaya uses radical honesty as a time machine to heal the past and imagine a play-full, gracious future. With fierce light, she aims to transform time and space to hold Black becoming in the ways we need.. All praise and adoration to queer Imagineers who lead the way: Audre Lorde, Octavia Butler, Alice Walker, Akwaeke Emezi, and Adrienne Maree Brown.
Tate Weinberg
Mile High Thai & Rocky Teriyaki
He/Him/His
I have always been outgoing and enjoyed interacting with other people. This prompted me to pursue a degree in Public Relations. After graduation, I immediately entered the workforce and gained experience in a plethora of jobs ranging from telecommunications to service industries, and network engineering. Although each position challenged me and offered opportunities to broaden my skills, none provided the social interaction and the ability to directly impact people that I craved.
In 2014 I was able to travel to Thailand and explore the northern regions of Chang Mai & Chang Rai, Puket & Krabi in the south as well as the capital city of Bangkok. I was captivated by Thai food, people and culture. Shortly after returning, I was transferred to Denver for work. There, I met Ohm. My desire to learn about his Thai background, and his interest in my growing up on a ranch in South-Central Montana enabled us to bond quickly. We wanted to share our different experiences and cultures with each other, and it occurred to us, what better way than through food! The lack of food choices downtown, Ohm's knowledge of Thai cuisine and my access to meats raised on the family ranch all encouraged us to take this opportunity and open our own restaurant.
Our goal is to provide fresh, affordable, locally sourced food. We offer high-quality authentic Thai dishes paired with USDA certified grass-fed free-range beef and pork. Our spices are carefully chosen from local south eastern Asian vendors. No shortcuts. No cutting corners. Quality meat. Quality ingredients. Fresh, healthy food at a reasonable price. Our location at 810 Vallejo Street in downtown Denver allows us the greatest possible impact for the area we serve. We are an LGTBQ-owned business and take pride in our product and genuinely care about our customers and community.
Wade Stembridge
Coco Gusto Chocolates
He/Him/His
Sometimes a closed door allows opportunity to knock. When he lost his job over the holidays a few years ago, Wade experimented with making chocolates as gifts. What started as a hobby became a thriving small business in 2018. Coco Gusto now ships artisanal assortments nationwide. Its success is a function of Wade's long experience in marketing, branding, photography, and design. He has worked in the startup, financial, and tech sectors. In his business and personal life, Wade always seeks to give back. Coco Gusto partnered with the non-profit OneTreePlanted to fight deforestation by cocoa farms. Wade mentors youth, including those with special needs, through CASA, Colorado Young Leaders, and Turn Community Services.Colorado has allowed Wade to be both "out" and "out and about." He and his 2 dogs are frequent state park visitors.
William Colgan
Patch Mgmt Services
He/Him/His
Dominick Moreno
Colorado General Assembly
He/Him/His
Kristin McFarland
The Source Marketing Group
She/Her/Hers